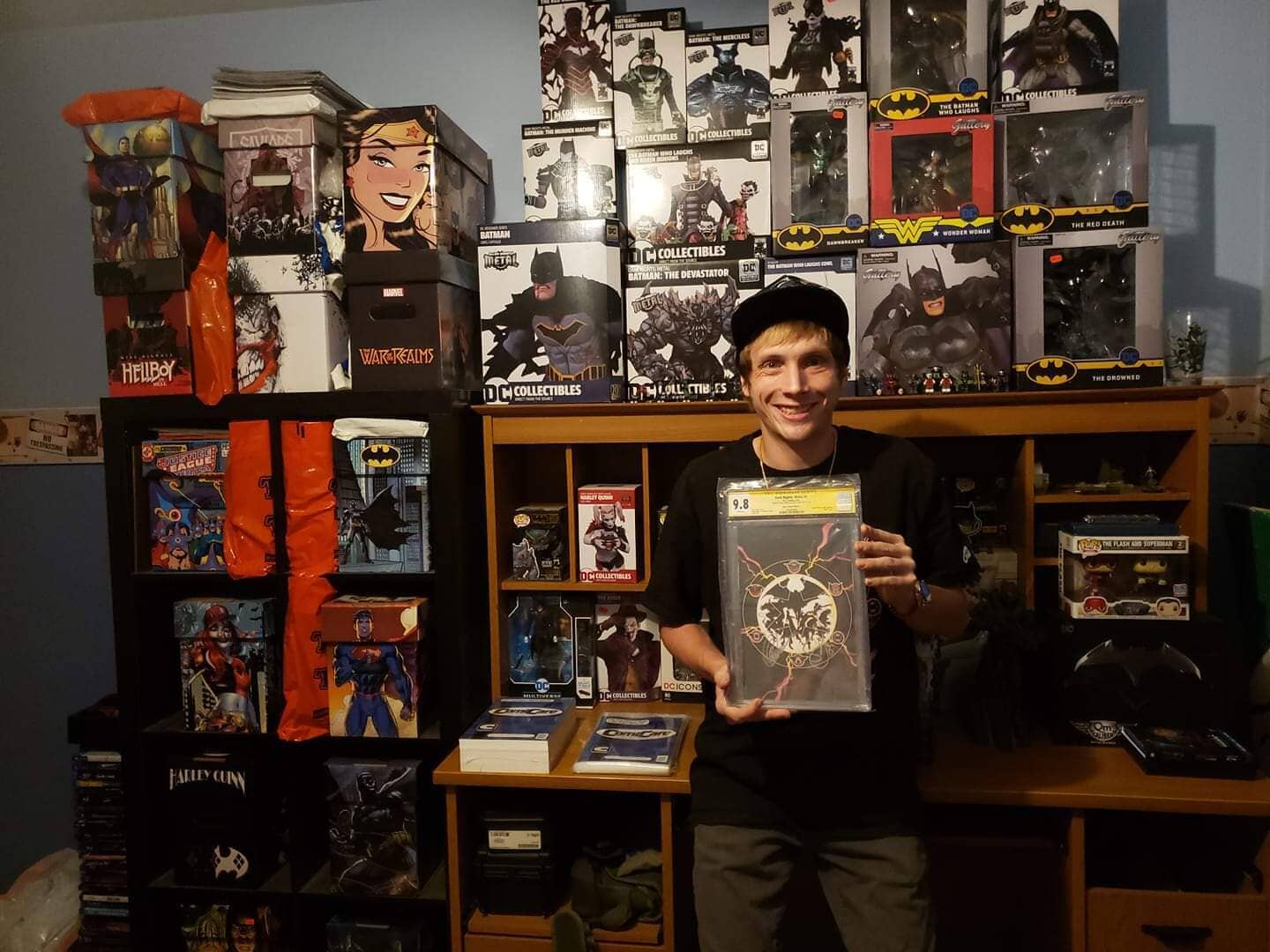 Spotlight - Ryan's Real-life Story with AWNL Stockholm
"Owning a small piece of the universe that is older than our planet its self is a great reminder of how small we really are and also really helps put the bigger picture into perspective when one stops to think of their place in life, this Earth or this Universe as a whole." - Ryan
Today, we invited Ryan, a comicphile who lived in Toledo, Ohio in the United States for an interview about his real life experience with AWNL Stockholm. He loved our meteorite collection very much and he had a touching story to share with us related to gift-giving for spiritual people.
Ryan worked for Fedex at the moment and in the spare time he worked on writing his own comic books. He also has a plan to start his own comic book publishing company when time was ripe. The cute guy had got a loving family of 7 - mom, dad and a brother, with 2 dogs Tank and Hunter and a cat Nina.
When asked about why choosing AWNL Stockholm
It's the appearance of Charoite meteorite bracelet that first drew Ryan's attention to our brand.
"As soon as I saw the type of quality, craftsmanship, and unique designs of your products I knew I had found the right company with exactly the right type of stuff I was looking for. As soon as I saw the Charoite bracelet I knew I had finally found exactly what I had been searching for and bought it in an instant, snagging the last one from your shop. I love the deep purple and black colors of the Charoite which also happen to be my favorite colors," said Ryan, "Spiritual qualities of the Charoite were also exactly what I was looking for, Protection, Purification and Spirituality". Later, he also mentioned about the combination of the cool Meteorite bead which could serve as a great reminder of the Cosmo and how should we build our mindset and place ourselves in this world.
And he conveyed his idea very beautifully - "Owning a small piece of the universe that is older than our planet its self is a great reminder of how small we really are and also really helps put the bigger picture into perspective when one stops to think of their place in life, this Earth or this Universe as a whole."
The blend of quality, craftsmanship, unique designs, and the meaning behind the Charoite and the power of Swedish Meteorite was the reason why Ryan loved about our brand.
When asked about how the bracelet played its role in his daily life
Ryan shared with us his real life touching experience...
This past summer, Ryan unfortunately lost both his Grandmother Rita and his best friend Alex within a week from one another. He was beyond depressed and heartbroken so he took some time off work to go visit his Dad and his friends in Washington to try and do some healing.
"One day while I was back there, my Dad decided to take me to the top of this nearby mountain called Blue Mountain which over looked my home town of Sequim and the nearby surroundings towns of Port Angeles and Port Townsend," he continued, "Not far from the summit we stopped by this ridge which over looked the entire Olympic Mountain Range. Right as we were about to continue up the mountain to the summit my dad slipped and fell on some loose rocks and bashed his head open. His head was bleeding and he went in and out of consciousness 5 times. As I started to administer CPR when his breathing slowed to almost nothing I remember wishing in my head please don't let my Dad die here on this mountain."
And to his surprise, "I was able to keep my father from the brink of death and get him stable and cleaned up enough that not only did we make it back down safely to get him to the hospital but we even finished our hike and made it to the top of the mountain first, before heading down."  
It sounded like magic, and he told us that he was wearing his Meteorite bracelet when he was making that heartening wish for his father. "And my wish was granted."
On top of that, Ryan also noticed that when he was wearing the bracelet, his anxiety and depression was much more manageable. Sometimes, one could only believe in something indescribable until she or he truly experienced. Be it true or not, the magical blessings power that these jewellery pieces exhibit was beyond our explanation and understanding.
Looking to the future
Ryan hoped that no one would encounter the same daunting experience as he did, and everyone should get enormous blessings in this holiday season. He now worked with us to create his own one of a kind meteorite pendant, and he'd also like to recommend AWNL as one of many novel jewellery brands to get meaningful gifts for spiritual people and for those you truly care about this year, and of course, many more years to come. AWNL makes one of the best jewellery gift for spiritual people and meditation lovers as spiritual gifts. Wearing, activating, and awakening!